In this article we'll detail how to use our platform to specifically review feedback for employees, or service providers that work within your business.  This is useful for multi employee businesses who strive to identify how customers rate the service from specific team members. In this article we hope to provide you with details to help you maximize your use of our features.
What is a Service Provider?
We consider a Service Provider an employee or member of your team.  If you are a Dental Office, you may be interested in how well the Dentists within your practice performed.  If you are a Counseling service, you may have multiple Counsellors on your team.  A Law Firm would have Lawyers  You may have Therapists, trainer, Salespeople, Real Estate Broker.  This is what we mean when we make reference to a Service Provider.
A single person business would know specifically that the feedback provided is about them, but it gets tricker with multi team businesses where you may have multiple Therapists, Dentists, Salespersons, etc. If that describes your business, then this help article is for you and will walk you through setting up your workflow to track reviews for each Service Provider.
1. Define Service Provider and Service Type for your customers
You first need to set the Service Provider on each customer.  We'll walk through how to define the Service Provider manually and through our integrations.
Acuity Scheduling
Our Acuity Scheduling integration, will set the Calendar Name as the name of the Service Provider. Our Acuity Scheduling Users typically create a Calendar for each service provider in their business in order to handle their appointments and allow them to book parallel appointments.  To set this up go to your Acuity Scheduling Calendar preference page here and make the updates to your calendar name.  We also take in the appointment type for each appointment which we set as "Service Type".

Zapier
We offer a Service Provider Mapping for Zapier.  Simply map the Service Provider form your source application to the Service Provider field in our Zapier integration and we'll do the rest.
Zoho CRM
For Zoho CRM, we simply take the Deal Owner for a respective Deal and set that as the Service Provider for the Customer on that deal.
Manual Entry
You also have the option to add or edit the Service Provider and Service Type here.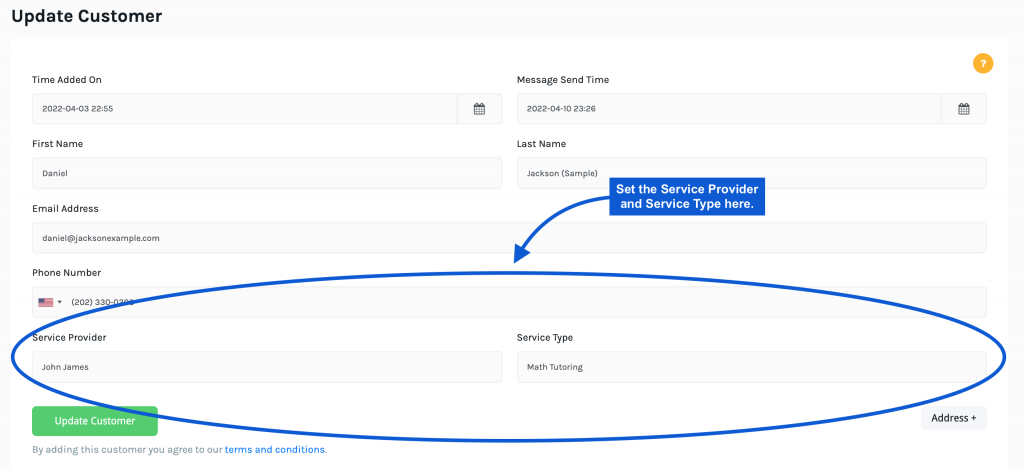 2. Update your message Template to reference the Service Provider
You may want to update your customer communications to specify your request for feedback for that specific Service Provider.  Thanks to our templating, that will be easy.
3. Monitoring Feedback by Service Provider
Once you map the Service Provider to the Customer, you will see them linked in the feedback page.

4. Show Service Provider on your Review Widget
Several users asked us to add the Service Provider to the Review Widget, so we did!  If you would like to add Service Provider to your widget you simply toggle the "Show Service Provider on Widget and save your settings.  We additionally added an option to define a name for your service provider in the event that you want to make the widget more custom to your industry.  If you are a Dental Office, then you may want to change the default "Service Provider" tag to "Dentist, a Counsellling Service, maybe Counsellor is more suitable.  Law Firm? You can update this to "Attorney".  Therapist, Salesperson, Broker, Customize it however it makes the most sense to your business!